St. Anthony Catholic High School: Inaugural Yellow Jacket Tee-Off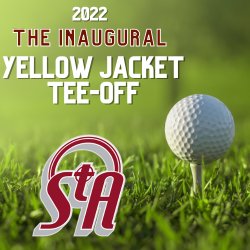 What

St. Anthony Catholic High School: Inaugural Yellow Jacket Tee-Off

When

10/28/2022, 8:00 AM

–

3:00 PM

Where

Canyon Springs Golf Club 24405 Wilderness Oak San Antonio, TX 78258
Welcome to the inaugural Yellow Jacket Tee-Off at Canyon Springs Golf Club‼️ God is working with us every day as we continue to build a premier Catholic college preparatory high school in San Antonio. Founded in 1903, we strive to empower students to achieve their dreams and provide a competitive curriculum that supports their professional desires beyond high school.
Running in parallel to homecoming week, the purpose of this golf tournament is to gather partners, alumni, family, and friends of STA to raise funds to nurture the future of our Yellow Jacket community.
Register as a single player, a team of four, or become a Business Sponsor for this event and unlock additional benefits. Come out and support your Yellow Jackets, past, present, and future.
Follow the link below to register.
For more info, please contact:
Director of Advancement
Ethan Gonzales - C/o 2013
210-832-3296
Copy to Google Calendar
•
Download iCal Event